Institute For Figuring's "Hyperbolic Crochet Coral Reef"
2007 exhibit at the Chicago Cultural Center.
I heard about this while listening to WNYC today and had to go and explore it further. Bet you didn't know New York City had its own Coral Reef eh? Well for a limited time it does, albeit that it consists of crocheted wool and other crazy materials like
shredded Target plastic bags
(very cool).
About two years ago Margaret Wertheim, a science writer, and her twin sister, Christine, came up with the idea of creating a "wooly coastline" to raise awareness and honor the 135,000 miles of reef in their homeland of Queensland, Australia. The "Hyperbolic Crochet Coral Reef" project was born, and is now on display in New York's World Financial Center's Winter Garden. The project has turned global with participants from all over the world contributing to the ever-growing reef. If you'd like to contribute to the exhibits next installation in London, click here for patterns. To read more about it, check out this NYTimes article or the Institute for Figuring, who are the curators of the exhibit. Best of all, the exhibit is FREE, so if you're in the area make sure to check it out. As a fellow crocheter who enjoys using different types of mediums (like wire!), I'm in love with this project, especially as it communicates an important message about global warming.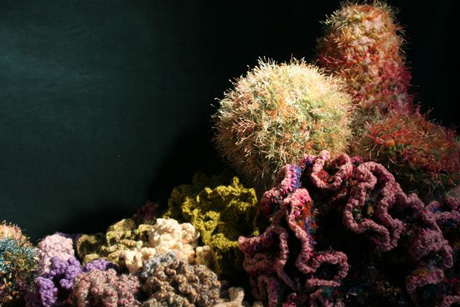 Image from the Institute for Figuring